Nowadays I use my handphone to take a good number of photos – it's too troublesome to carry around a digital camera in daily life, and posting to social media is so much easier when you have the photos on your camera phone already. But rarely do most of my phone's photos make it anywhere other than my phone's archives, I'm just lazy that way…
So when the good folk of Printic approached me to try it out prior to their launch in Singapore, I was pretty excited about it. I love prints – there's nothing quite like having a physical piece of a memory in your hand, which is why I'm quite fond of analogue photography as well. Printic makes it really easy for you to take your favourite photos from your phone, facebook or instagram and transform them into cute little Polaroids that you can stick up on your wall.
The best part? They'll send your orders internationally for you, with no extra charge! So it's a great way to connect with friends in other parts of the world.
Using the app
For iPhone users like me, you can download the Printic app from the app store for free. It works by a credit system – 0.79 euro or US$0.99 for 1 credit, and up to 33% savings the more credits you purchase.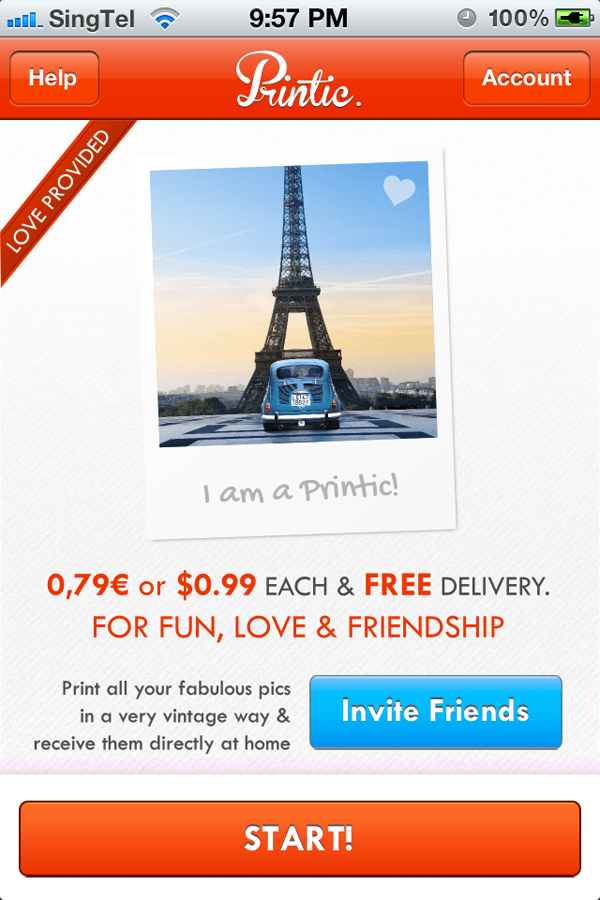 You can pick photos from your facebook, instagram or your phone's photostream, or a combination of the three. Remember to pick photos by sender – i.e. each order (min 3 pix) is sent to one address at a time. The photos need to be cropped to a square shape, which you can control with the scissors icon. You can also choose to send multiple copies to the same person, or add a comment below the photo.
You can send a separate photos with just a message on it, but it counts as 1 credit, so you might not want to 'waste' it on a separate
The price of each credit includes the shipping fee – I decided to send some Printics and memories to good friends currently overseas – one in Hong Kong, one in Edinburgh and another in Australia
The Printic folk mentioned that delivery time would take 3-5 days for most places in Europe, North America and Australia, and around 10 days for Asia right now until they launch proper. I made my orders on a Wednesday, Edinburgh received the mail really quick within the next week, Australia's mail took a little longer at about a week to reach, and Hong Kong took the longest at about 2 weeks.
You've got mail!
This is what your recipients will get when you send them Printic:
I haven't gotten the chance to see the Printics for myself, but my recipients report the quality of the photos in general to be quite good, and were generally quite gleeful to be receiving surprises in the mail.
Head on over to the Printic website for more info. If you're feeling charitable, use my signup link here – I'll get free credits for referrals which I will really appreciate! The app is available for download on iTunes and the Android app store, and have recently launched their weibo page as well – where you can get 2 free credits by liking and sharing their page!
Thanks to HY and P for snapping the pix of the Printics for me!