So I've done quite a number of reviews on Singapore's local hotels – generally they've been pretty nice hotels, and in general Singapore's standards when it comes to hotel pricing tends to be a bit on the high side, so if you're coming fresh from somewhere else in South East Asia, the price differences might be a bit of a shocker.
When the folk at Hangout at Mt Emily asked me to check out their recently refurbished location which just re-opened on 1 July 2014, I was definitely quite curious about it. My impression of it was that it was a backpacker's lodge with shared dorms (It's a Hostelling International hostel), but now that I've visited, it's now a rather interesting hybrid of classy backpackers and budget hotel, which is good for those who'd rather save on fancy accommodation but still want something better than a typical hostel, something that I personally look for when I travel overseas.
LOCATION
Describing the convenience of Hangout @ Mt Emily is a little difficult. On one hand, it's located in quite a central area of Singapore walkable to the shopping malls of Dobby Ghaut, and arts/heritage areas near Bras Basah. On the other hand, it is a little out of the way as it's up on a hilltop, and even walking from the closest MRT stations Dobby Ghaut MRT (North-South Link, North East Line, Circle Line) and Little India MRT station (North East Line), it's still 20mins at a leisurely pace, and involves some slope and stairs.
The payoff though for being more out of the way is that it's nice and quiet around the hotel as it is mostly surrounded by fancy residential condominiums and overlooking a park, so it works if you don't mind a bit of a walk. It's not completely out of the way though – the malls nearby make it easy for you to get any amenities that you need, just remember to do it before you make that climb!
(It's less of a trek than my Seoul accommodation…)
THE ROOM
I was put in Room 303, one of the Double Plus rooms with an ensuite bathroom. As budget hotels, the room is fairly basic – most of it is taken up by a large bed and a daybed couch, but as far as budget hotel rooms go, it's fairly spacious – I would have been quite pleased by the space available. The bathroom is also quite basic, a shower with all-purpose shampoo/soap and that's about it. There's no TV or mini bar or even any fancy amenities, so as long as you don't go expecting anything frilly you'll be fine.
Private room sizes range from double/twins all the way to quin (5 persons).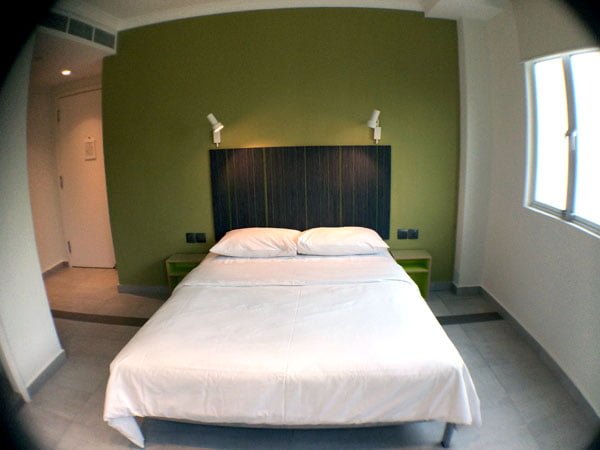 For the more budget conscious, 4 shared 'dorms' are available, but you'll be glad to know that they aren't bunk beds!. They look pretty swanky really., and even come with their own personal safe!
THE HOTEL
One of the hotel's best kept secrets is their rooftop terrace which is accessible only to hotel guests. Located on the 7th floor, it's an open air area with a great view of the surrounding city, and deckchairs that you can lounge on. There's even a 'pool', which is more or less a tiny outdoor shower/footbath which has water about shin deep. Late evenings and nights would be a nice time to hang out here.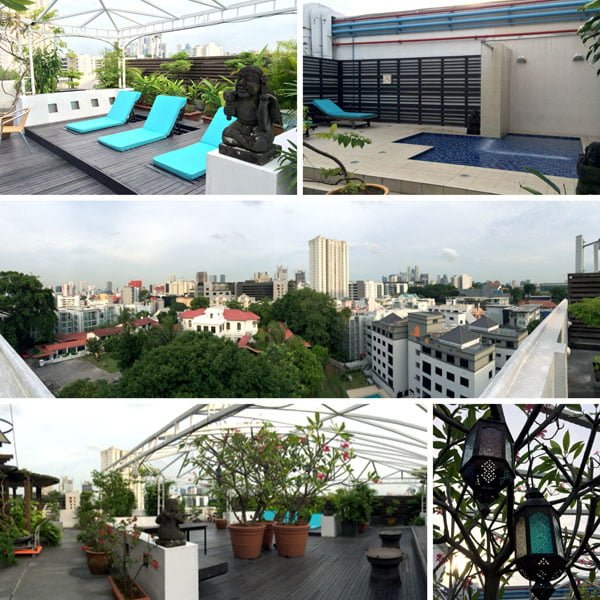 On level 2 is the main lounge area where you can relax and watch TV, as well as a reading nook. Computers are available, and a laundry room to catch up on laundry. No worries, wifi is available throughout the hotel.
There is an in-house restaurant called Wild Rocket opened by quite a popular local chef Willin Low – I'd visited it before the renovation and found the food quite interesting, though it's not particularly budget, but if you had to splurge on one fancy meal in Singapore, this would be a good option.
The restaurant also is the location for the morning breakfast buffet, which runs from to 9am, which is rather early but it's so they have time to turn over the restaurant for lunch service. The breakfast buffet is fairly modest but tasty – some breads, cereal and the usual American style platters.
AROUND THE HOTEL
The closest point of 'civilization' is Selegie Road, which is a stretch of road which haven't yet undergone the shiny refurbishment of the Orchard Road area, so it's a nice change of atmosphere. From there you have the Bugis-Bras Basah area at your doorstep, so you're fairly close to museums like the Singapore Art Museum and the National Museum, or more popular shopping malls like Plaza Singapura and the Cathay. You could also walk to the Little India stretch from there.
PRICE
This particular room (the Double Plus) that I stayed in has an internet rate from S$150, with a rack rate of $345 (!), so definitely make sure you book your stay online. The cheapest private room goes from S$285/150 (rack/online). Meanwhile, dorm rooms range from S$40-60/night. If you're a HI member, you can get slightly cheaper rates too.
Hangout @ Mt Emily
www.hangouthotels.com
10A Upper Wilkie Road, Singapore 228119
Thanks to Steven and Hangout Hotels for organizing and sponsoring the stay.